As the weather warms up and Mother Nature starts to bloom once again, the Island is the perfect getaway for nature lovers to rejoice in the new season. There are gorgeous trails and hikes to explore, bird-watching just about anywhere, local farms and farmstands to visit, and so many outdoor activities to take advantage of. Martha's Vineyard really is the place to be to refresh and renew this spring and summer season.
It's time to plan a vacation where you can rest your head at night in a relaxing rental property, and relish in the beauty and diversity of Martha's Vineyard during the day. With such a varied list of outdoor attractions, there's no shortage of things to do. Plus, thanks to non-profit organizations such as Sheriff's Meadow Foundation with their TrailsMV mobile application that allows you to easily view and explore all local trails, The Trustees of Martha's Vineyard with their constantly-evolving list of programs, and the abundant selection of Martha's Vineyard Land Bank properties, there's always something new to discover on-Island.
There are dozens upon dozens of trails to explore, and we encourage you to get to as many as you can. In the meantime here's a shortlist of a few of our favorite trails.
The namesake property of Sheriff's Meadow Foundation was indeed a meadow belonging to a sheriff. In the 1850s, this land was a meadow and the property of Sheriff Isaiah Pease, and hence known as the Sheriff's Meadow.
According to Sheriff's Meadow Foundation "The public is welcome and invited to enjoy Sheriff's Meadow Sanctuary by walking along with the Ruth and Ed Brooks Trail. The Brooks Trail offers sweeping scenic views of Eel Pond and Nantucket Sound, not to mention attractive interior views of the Sheriff's Meadow pond, John Butler's Mudhole, and the surrounding environment. The Brooks Trail is also notable for its olfactory pleasures, especially in the spring. One's nose is treated to one fragrance after another; some foreshadowing what awaits on the trail, as the aroma arrives before the view."
It's a great trail to explore with the entire family, with great views of the pond, relatively flat terrain, and abundant wildlife.
"The Vineyard Sound waves beat against the boulders, beach grasses bend before salt-laden breezes, stunted American beeches bear wooden witness to constant, sculpting wind, and freshwater tumbles down a rocky stream bed to meet the sea. One finds these scenes at Cedar Tree Neck Sanctuary, the Obed Sherman Daggett and Maria Roberts Daggett Sanctuary, the A.S. Reed Bird Refuge, Fish Hook, and the George A. Hough Preserve – properties collectively known as Cedar Tree Neck Sanctuary," thanks to Sheriff's Meadow Foundation.
Cedar Tree Neck Sanctuary has been named the Best Nature Walk in Martha's Vineyard Magazine's Best of the Vineyard for good reason. Given its incredible views of the north shore of Martha's Vineyard and beyond, and its varied landscape it's the perfect trail to explore to accurately understand just how breathtaking Martha's Vineyard really is.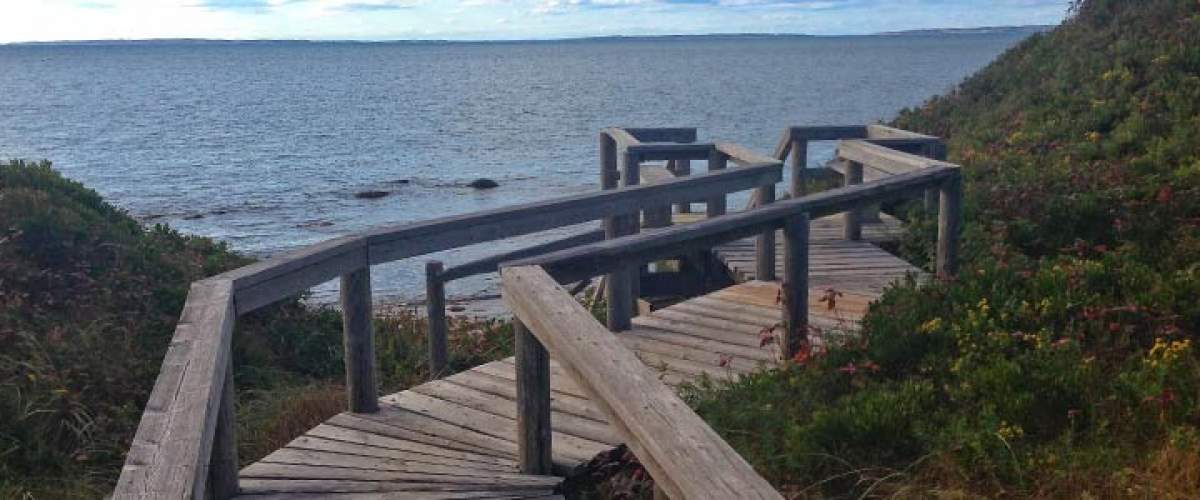 "Experience the drama of a rocky shoreline and scenic vistas across Vineyard Sound to the Elizabeth Islands from the second-highest point on the Island," is how The Trustees of Reservations of Martha's Vineyard describes one of their most iconic properties, Menemsha Hills Reservation.
Located on the north shore of the Island, en route to the beloved fishing village of Menemsha if you're coming from down-Island, this long and diverse trail offers a little bit of everything. Menemsha Hills Reservation is home to lush woodlands, sweeping views of the Elizabeth Islands, wild grape plants, the rocky shore, Prospect Hill at 308 feet, and recently opened to the public, the remnants of a 19th-century brick-making operation. It can be a lengthy hike depending on your fitness level, so be sure to bring water and proper shoewear.
"Whether you want to body surf in the ocean, splash with the kids in sheltered salt and freshwater ponds, or explore a rare grassland habitat, this spectacular reservation is a favorite escape," and another beloved property from The Trustees of Reservations.
Spanning 632 acres this large property is a popular destination for hiking, swimming, or making a day of it at the beach. It's one of the largest publicly accessible properties on Martha's Vineyard, and according to The Trustees it's all that remains of a broad prairie with scattered woods formed many years after the last ice age.
Note that there may be advanced reservations required and a fee during summer months, but admission in the off-season is free. There are two different ways to enter the property depending on the time of year, so be sure to follow the correct directions for when you plan to visit, and be prepared it's a long drive down to Long Point.
Managed by the Martha's Vineyard Land Bank, this property does not feature an ocean view like those above, but there's still an incredibly appealing water feature. Fulling Mill Brook, which drains into the Chilmark Upper Pond, runs the length of the preserve and makes for peaceful and soothing soundscapes while strolling that 1.4 mile loop trail.
Expect to see (and hear!) a plethora of birds, and small wildlife scampering about, and be prepared for multiple intricate footbridges that weave in and out of habitats that otherwise would be too dense to visit.
---
Note that in general dogs are allowed on Island trails but must be kept on a leash, be sure to check the specific trail you are considering visiting and read all posted signs. Additionally, some areas are restricted during hunting season, October through December. No matter what trail you choose to explore, you'll be delighted with the amount of outdoor entertainment the Island has to offer. You'll be refreshed, reenergized, and excited to discover new spots on the Island. Happy Hiking!